About All Saints Youth Ministry
Our Mission
Based in Manassas, VA at All Saints Catholic Church, our mission at All Saints Youth Ministry is a complete devotion of our time and energy to the service of young people in our surrounding area. Much like the early Christians, ASYM is committed to building a safe, secure community where we can pray, laugh, and worship God together.
The approach we take to our ministry is not one of lecturing or preaching, but of building relationships with one another. Being one of the largest parishes in the diocese, All Saints exerts a vast amount of energy toward serving the young.
Unfortunately, our culture does not provide many safe environments for young people to be themselves or cultivate a spiritual life. The media is constantly bombarding us with false images and expectations of what it means to have a fulfilling life, putting a lot of pressure on teens to be anyone but themselves. The spiritual life is often portrayed as dull and outdated. Our goal is to reinvigorate a sense of excitement and adventure in pursuing a life united with Christ that is anything but dull.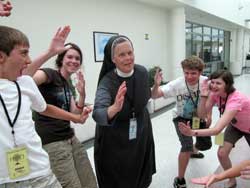 Our community offers a welcoming, non-judgmental environment where people from all walks of life can come to share how the Lord is working in their lives.
All Saints YM's approach is grassroots and establishing healthy relationships takes precedence. The aim of our leaders and youth ministers is to meet young people exactly where they are at in their lives, offering them a safe haven to share their struggles and their hopes.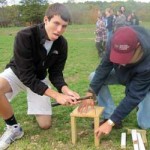 Like any human institution, we are far from perfect and are constantly striving to improve in order to better serve Christ through our ministry.
We are extremely grateful for the opportunity to serve in this ministry as Christ himself has a particular compassion for young people. We thank you for allowing us this opportunity.
We hope to see you at one of our Life Nights, retreats, or one of the many other activities going on within the All Saints Youth Ministry program! All are welcome!