Amazing Grace: The Broadway Musical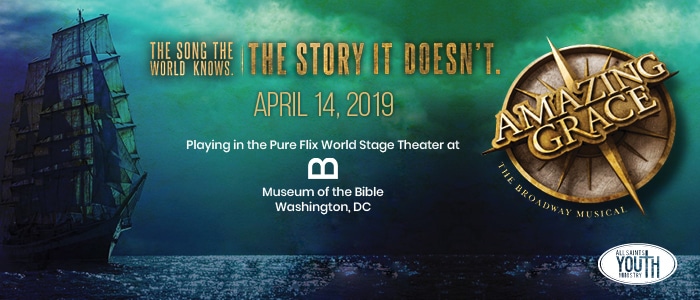 WHAT: The Broadway musical, Amazing Grace, plus two hours in the Museum of the Bible!

WHEN: April 14, 2019
Leaving from All Saints PAC at 10:45am, transporting you to DC (bring a lunch to eat on the drive!)
Arriving at 11:30am, we will tour the Museum for a couple hours
Then we'll see the 2:00pm matinee of Broadway's Amazing Grace
Depart at 4:30pm and arrive back to All Saints at 5:15pm
(Please plan to attend Mass Saturday night, or 9:30am or 5:30pm on Sunday)

WHERE: Museum of the Bible, Washington DC

COST: These tickets would cost you $75 to purchase on your own, but we have secured exclusive pricing for All Saints Youth Ministry…and you only pay $25 *or* just $20 if you bring donations for the Bethany Food Pantry!  (That's over 70% off the normal cost.)
Straight from Broadway, Amazing Grace is an original musical inspired by the awe-inspiring story behind the world's most beloved song. A captivating tale of romance, rebellion and redemption, this radiant production follows one man whose incredible journey ignited a historic wave of change.  John Newton, a willful and musically talented young Englishman, faces a future as uncertain as the turning tide. Coming of age as Britain sits atop an international empire of slavery, he finds himself torn between following in the footsteps of his father—a slave trader—or embracing the more compassionate views of his childhood sweetheart. John embarks on a perilous voyage on the high seas. When that journey finds John in his darkest hour, a transformative moment of self-reckoning inspires a blazing anthem of hope that will finally guide him home.
In addition to the show, you will also get to experience one of the Top 10 museums in DC and one of the most technologically advanced and engaging museums in the world: Museum of the Bible! Showcasing rare and fascinating artifacts spanning 3,500 years of history, the museum offers visitors an immersive and personalized experience with the Bible, and its ongoing impact on the world around us.
Space is limited! Questions? Email rtessier@allsaintsva.org.