It's that time of year again! Time to decide what form of chocolate you really might be able to live 40 days without, or what Netflix show you can resist the urge to watch.
———————————————————————————————————————-
How about we make some better Lenten decisions this year?
How many of you have done something for Lent before, and in the midst of things:
Forgot you were doing/not doing that thing and accidentally did it (…bacon on Friday)
Forgot to "give up" something until the First Sunday of Lent rolled around and decided on something quick (Uhhh..no more soda!)
Decided you'd do something really great like pray a rosary every day–but then forgot 2 weeks in and just sort of scratched it.
Lent comes with all of the fun of choosing your own adventure. We're gonna try and help you out this year.
Lent is a time of repentance. According to Merriam-Webster, repentance is:
to turn from sin and dedicate oneself to the amendment of one's life.
In the season of Lent, we are venturing into the desert with Christ for 40 days, to cleanse ourselves of the things holding us back from living the Glory of the Resurrection. It is a time for us to reflect on the ultimate Sacrifice of Love that Christ made for us on the Cross, and unite our small sacrifices with His.
The Code of Canon Law 1249 states:
Christian faithful devote themselves in a special way to prayer, perform works of piety and charity, and deny themselves by fulfilling their own obligations more faithfully and especially by observing fast and abstinence.
Prayer: 

Note that Canon Law doesn't just say we should be praying (because we should be everyday!) but that we should devote ourselves in a special way to prayer. This means that praying your daily prayers is great, but Lent calls us to do even more, to step it up. Here are some concrete ways to make that happen:

Increase your prayer time. Maybe you spend 5 minutes a day, 30 minutes a day, or maybe you haven't been all too consistent. Now is the time to commit. Set a reminder on your phone, put sticky notes on your mirror, put your Bible on your bed every morning. Do something that will remind you to spend time with the Lord, and keep it as pat of your daily routine.
Add a type of prayer. Maybe you pray the rosary every day, but have never really tried Lectio Divina. If you read the daily readings for Mass, add to that by making a spiritual communion on the days you are unable to attend Mass. And if you are able to attend Mass during the week, GO! Try out Liturgy of the Hours, decide to pray a Divine Mercy Chaplet at 3pm daily. Reach outside of your normal prayer and push yourself to do more.
Be more intentional. How many times have you been saying the rosary and all of the sudden you're not sure if you just prayed the 3rd or the 7th Hail Mary of the….2nd decade, maybe? If prayer becomes too "routine" for us, sometimes it can be hard for us to fully engage. Offer the prayers your are praying for someone or something specific. Make it personal. I've heard of people having a "Lent Calendar" where they write down someone or something on each day of Lent and offer all of their prayers for that intention. How cool is that?! You could even give them a text or call that day and say "Hey, I just offered my rosary for you." You'll be surprised how touched people are that you thought of them.
Be quiet. We hear all the time about the chaos and noise and distraction that we encounter in our lives. To have an authentic prayer experience, we must allow ourselves to have an encounter with God. It's hard to have a conversation with someone if the TV is on in the background, if we have our headphones in, or if our phone is buzzing with notifications about that cat post you saw on Facebook. When Elijah was looking for an encounter, God said to him, ""Go forth, and stand upon the mount before the 

Lord

." And behold, the 

Lord 

passed by, and a great and strong wind rent the mountains, and broke in pieces the rocks before the 

Lord

, but the 

Lord

 was not in the wind; and after the wind an earthquake, but the 

Lord

 was not in the earthquake; and after the earthquake a fire, but the 

Lord

 was not in the fire; and after the fire a still small voice." God speaks in the quiet of our hearts.
Charity/Almsgiving: 

One of the biggest parts of making Lent fruitful is being able to reach outside of ourselves. As Catholics, we do this by serving our brothers and sisters in Christ. This doesn't mean we need to go on a 40-day mission trip or donate $1000. We give what we can of our time, talent, and treasure, and push ourselves to give just a little more than usual. Concrete ways to make that happen:

Pray for those who need it. Did you know that's an act of charity? Maybe you pray for what you need in your life, or for your friends and family. What about in addition, praying for the lonely? The heartbroken? Those with no one to care for them? Families who do not have enough food? The homeless?
Donate your time. We are blessed to have many ways to help in our area through Catholic Charities. For instance, The St. Lucy Project loves to have new volunteers to pack, sort, and organize food donations that are distributed in mass quantities throughout the state of Virginia. Look into volunteering at a food shelter, soup kitchen, food bank, nursing home, or even a community center in town.
Donate your talent. Giving alms and providing a work of charity doesn't mean it has to be with the poor. You can donate the talents that God has given you, right here in your own parish. Do you sing or play an instrument? Join the choir at one of the Masses! Are you a natural teacher? Call up the Religious Education office and see how you can help. Great at organizing and managing? Get in touch with the parish festival committee. Have a knack for bingo and a love for the elderly? Check out the Golden Agers group and see what you can do for them.
Donate your treasure. Technically, if you're making money, some of what you're earning should be given back to the Church and to God, in thanksgiving for all He does for us. The recommended tithe is 10% of what you make. If you actually look at this over a year, even if you're just a babysitter, it's quite a lot! While not all of us are able to give 10%, we should be giving back to the Church in some way, and even more so than usual during Lent. Keep an eye out for bulletin announcements about food drives, medical drives, and reliefs drives for those most in need. Drop a few cans in the bins in foyer of the church for the food pantry. Light a candle in the chapel for a loved one, and donate a few dollars. Pick up one of these wallets and keep some $5 McDonald's gift cards for when you come across someone who needs a meal. Make it a habit that whenever you're spending money, you're thinking of the less fortunate and ways you can help.
Fasting/Abstinence:

Here's where your natural tendency comes in to want to give up chocolate and soda. While these are good sacrifices, we should take a moment to examine what it is in our lives that is really keeping us from serving God and living for Heaven to the fullest degree. What occupies our free time? Our minds? The opportunities that we may have to pray and choose something else instead? Concrete ways to live this out:

Examine your time. Whether it's social media, video games, Netflix, endless scrolling, or your bff, something is bound to be occupying your time (not the time you legitimately have to spend on school/work/homework/bathing and feeding yourself). What is it? Is that time you could be spending in prayer? Examine and adjust accordingly. Maybe you need to fast from social media, video games, or even too much time spent on a relationship. It's important to fast in a way that is 1. Not impossible and 2. Still challenging. Saying you'll cut down from 6 hours of Netflix a day to 4 hours isn't much of a change. The difference from your fasting should be noticeable.  I know for me, sometimes I get way too caught up on my phone and can scroll for a long time before I realize what time it is. Not only does that take me away from time I could be spending in prayer, but also away from the people around me.
Examine your "indulgences." How effective would it be if I gave up music for 40 days (Wow, Mary, you're so amazing!) only for you to discover that I didn't even have radio in my car, so it wasn't much of a sacrifice? Make your fasting legit. If music is something you HAVE TO HAVE, think about cutting down how often you listen to it, or limiting what genres/lyrics you allow to penetrate that mind of yours. Lent is a great time to cleanse ourselves of impure influences (tv shows, movies, songs, apps, etc). Maybe you really are addicted to coffee or chocolate. What is it that gives you that satisfying "ahh" moment during the day? Lent gives us the opportunity to make ourselves a little uncomfortable and remind us that God is really the only comfort we should be relying on. Think about cutting back. Like we said before, your fasting should be noticeable, but not impossible.
Make those sacrifices. Have you ever taken a cold shower ON PURPOSE? You could do that and offer it as part of your Lenten sacrifice. Give up snacking during the day. Stop complaining and stop yourself when you start to do so. Don't salt your food. Tried sleeping with no pillow? How about just straight up sleeping on the floor? We aren't meant to be comfortable. The world offers us fleeting things that we take for granted, but God offers us love and a life with Him of pure bliss for all of eternity. By taking this time of Lent to get used to being without the things that are a part of our normal routine, it allows us to rely more on God and how He will provide for us.
Now, the fun part. Choose your own adventure! As faithful Catholics, we are called to participate in ALL THREE of these categories during Lent: Prayer, Almsgiving, and Fasting. It's up to you how you want to do that. Remember that it should be more than you normally do for those categories on the daily, but don't burn yourself out. If you decide to pray 7 rosaries a day, volunteer at a soup kitchen 4x a week, and sleep on the floor for the entirety of Lent…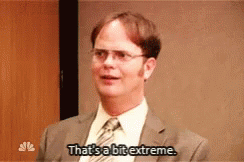 We can't be unrealistic. The goal and aim is to draw closer to God and allow ourselves to look to Him to be the answer to our prayers, the provider of what we need, and the consolation in our emptiness.
Wishing you all a blessed Lent and know that we are praying for you!