Sunday Night Life Teen

Sunday 5:30pm Mass followed by 6:30-8:15pm Life Teen in the PAC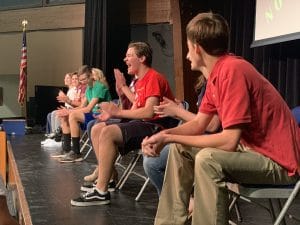 All 9th through 12th graders are encouraged to attend! We serve Dinner & Play Games from 6:30-7pm followed by a fun-filled night intended to include activity, socializing, catechesis of faith themes, powerful talks, prayer, and games. It's truly a variety and every Sunday is different!
Feel free to bring your high school friends…you won't be disappointed!
Parents: We are always in need of volunteers, especially with providing meals every night for our teens. Click the link bellow for more information on how to volunteer to bring in a meal along with reimbursement details.