Sunday Night Life Teen

Dear Teens,
We want to connect while we are all at home!
  We are still hosting our Sunday Night Life Teen…just online via Zoom Video Conferencing!
Please visit our https://AllSaintsYouthMinistry.org/StayRooted page for the times and details!
Sunday 5:30pm Mass followed by 6:30-8:15pm Life Teen in the PAC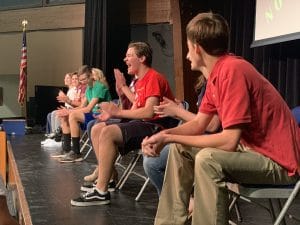 All 9th through 12th graders are encouraged to attend! We serve Dinner & Play Games from 6:30-7pm followed by a fun-filled night intended to include activity, socializing, catechesis of faith themes, powerful talks, prayer, and games. It's truly a variety and every Sunday is different!
Feel free to bring your high school friends…you won't be disappointed!
Parents: We are always in need of volunteers, especially with providing meals every night for our teens. Click the link bellow for more information on how to volunteer to bring in a meal along with reimbursement details.